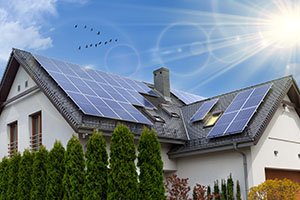 Investing in solar panels can save you money, help you use less energy from the grid, and help the environment, but do solar panels cause roof damage? Here's what you need to know before deciding whether to say yes to solar.
How Are Solar Panels Installed?
Most solar panels attach directly to your home using bolts that go through the roofing material and into the attic. Secure installation is critical to prevent them from detaching and falling or from getting pulled loose during high winds or extreme weather.
Can Solar Panel Installation Lead to Roof Damage?
There is always potential for roof damage with solar panel installation. The holes drilled through the shingles and into the attic can lead to water leaks if not properly sealed. Water under your roofing material means water in your home, which can result in mold and mildew and an increased chance for more leaks. Additionally, damage to the shingles or tiles on your roof can occur when drilling holes for the panel support.
What to Do if You Have Roof Damage
Some minor damage to your roof isn't generally a reason to dismiss the idea of adding solar to your home. A reliable roofing company can easily inspect your roof after installation and assess any damage. Or, if your roof has developed issues years after solar install, a roofing company is the right source for repair.
Before you invest in solar, or if you have solar and have concerns about roof damage, reach out to the team at Premiere Roofing. Their experts can perform a complete inspection and give you a free estimate on any repairs.