3 Clear Signs You're Dealing with a Roofing Scam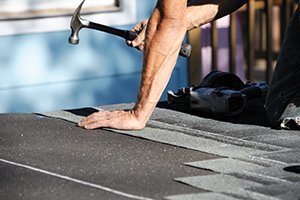 Roofing scams leave trusting homeowners stuck with bad roofs and drained bank accounts. Roofing scammers typically either do inefficient work using poor-quality materials, or just take their victims' money and never come back to do any work.
These criminals often circulate in neighborhoods with older houses or where homes have recently been damaged by major storms. The con-artists exploit victims' fear of expensive repairs.
These types of scammers can be difficult to identify, but here are a few clear warning signs you should keep an eye out for.
1. Unusually Low Bid
A contractor may offer you a replacement or repair price that is much lower than the others you've received from roofing companies you've asked to provide bids. Then, after the work is started, the price begins to escalate. The scam artist may inflate the material cost or claim that unforeseen problems require an increase in the bill.
Although roofing material costs do fluctuate, the overall repair price should not start increasing during a roofing project.
Remember: Do your own research before allowing any roofing work to begin. Ask licensed roofing contractors about their pricing. Make sure that you get a clear agreement in writing from your contractor that materials, labor or other prices will not be increased from the bid amount during the project.
2. Undetectable Damage
A roofer arrives at your door claiming they have noticed some damage on your roof. This person points to some damage that you don't see for yourself, but he insists is a serious indicator of needed repair.
Roofing scam artists may claim that they find roof damage where none exists. Other roof scammers have even been caught intentionally causing damage, and then providing estimates to repair it.
Remember: Beware of the roofer who knocks on your door and says he has noticed signs of serious damage on your roof. Get a second opinion, if you think there really may be an issue. It is also important to have regular roofing inspections from a reputable roofer you can trust.
3. Uninvited Bid for Storm Damage Repair
Roofing scam artists known as "storm chasers" may go from door-to-door offering to replace or repair roofs that appear damaged. They offer a new roof for an unrealistically big discount by filing out an insurance claim. Or, they may say they have extra materials from a roof they just finished in the neighborhood, and offer a big discount to replace or repair your roof too.
The work these scammers do is often poor and inefficient, causing you to have the roof repaired again. Their goal is to hit as many homes as possible and get out of town quickly. The roofs they install may have a small fraction of the life expectancy of a roof installed by a qualified professional.
Remember: Don't allow yourself to be rushed into paying a roofer who insists that the work must be done very quickly. Take time to confirm the contractor's licensing, liability insurance coverages, local references and Better Business Bureau record.
It's also important to remember to never allow a roofer who arrives uninvited to go up on your roof and to never sign a roofing contract until you have taken time to research the company.
<h3>Premiere Roofing, Columbia SC</h3>
<p>Premiere Roofing has built our reputation on our reliability and strong commitment to providing the highest quality of materials and workmanship for our business and residential roofing customers. Our experienced and highly skilled team is fully focused on safety and customer satisfaction. Our customers' long-term satisfaction has been the greatest measure of our success in our area. For more information about signs of roofing scams, or to schedule an appointment for a cost-conscious estimate, <a href="http://premiereroofing.splashclients.com/get-an-estimate">contact Premiere Roofing today.</a></p>