How Clogged Gutters Can Affect the Integrity of Your Home's Foundation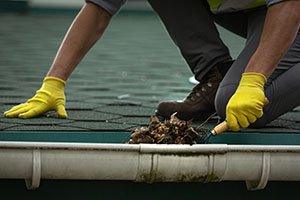 Could clogged gutters affect the integrity of your home's foundation? When homeowners think of foundation damage, they usually look to the ground around their house, but your gutters could be the cause. Here's how.
Your Gutter's Job
The primary job of your gutter is to catch water from storms and direct it down and away from your house. The system of gutters that travel across your roofline and down the sides of your home function together to make sure the water doesn't pool next to your foundation. A dry foundation is critical to maintaining its integrity.
What Happens When Gutters Get Clogged?
Clogged gutters might seem far away from your home's foundation, so how could they affect it? When gutters clog, water flows over the edge and down to the ground without direction. When the water flows freely instead of away from your home, it can lead to water sitting next to or seeping into your foundation, leading to pressure that can cause the concrete to crack and buckle. A crack in your foundation can affect the structural integrity of your home.
How to Prevent Clogged Gutters
Keeping gutters clear is the best way to prevent damage to your foundation from overflowing. Preventing clogs includes:
Clean debris out of the gutters seasonally
Trim trees and bushes to prevent buildup
Inspect gutters for breaks, cracks, or damage
If you have issues with your gutters, whether clogged or damaged, talk to a reliable roofing professional to prevent damage to your foundation before it starts. Reach out to Premiere Roofing to find out more.