Your Spring-Cleaning Checklist for Your Roof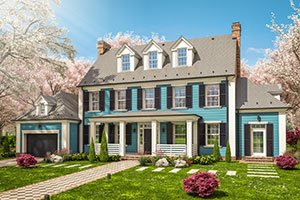 When making a spring-cleaning checklist for your property, you may not consider your residential roof. However, taking some time to get your roof ready for the next season is an effective way to prevent costly damage and prolong its lifespan. Keep reading for a checklist to follow to make the most of your residential roof this spring and all year long.
Clean the Gutters
Gutters must be debris-free to prevent overflows and backups that can damage your roof. If there's anything other than water in the gutter, it needs to come out. Remove leaves, twigs, and seeds. This will also prevent birds from making nests in the gutters. Before flushing the gutter, always remove debris to avoid clogging the downspout.
Trim Hanging Branches
Notice any trees near your roof? It's best to trim the branches before spring begins. Branches tend to grow even longer during the warmer months. As a result, they can scratch or damage your roof, and the leaves can fill the gutters. By trimming the branches, you can keep your roof safer.
Look Inside for Water Damage
If you notice any water damage or mold growth on the ceiling or in the attic, these are signs you may have a leaky roof that requires immediate repair. The winter's fluctuating temperatures and snow or ice accumulation can be brutal on the roof. Checking for damage before springtime can help you prevent more extensive property damage.
Schedule a Roof Inspection
The most important step you can take to get your roof spring-ready is to contact Premiere Roofing for a professional roof inspection. Our experienced roofers provide free roof inspections and make repair recommendations to ensure you have a roof that keeps your home safe and protected.
Need help completing your spring roofing checklist? Contact the team at Premiere Roofing to schedule a free roof inspection or other roofing services.